Spring Cleanup – The Calanques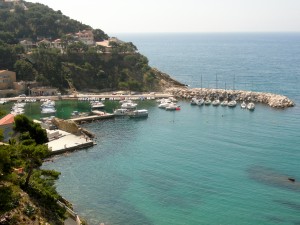 I just happened to be visiting friends who live between Aix-en-Provence and Marseille the weekend of the annual spring cleanup of the local calanques (narrow, deep inlets on the Mediterranean coast, the Provençal version of Nowegan fjords).  The best known (and largest) are to the east of Marseille but west of Marseille you find smaller hidden calanques that feel much cozier.  Saturday was Operation Calanques Propres for several neighboring calanques.  We went to one with a small harbor and two small gravel beaches.  Volunteers were given a bit of breakfast (juice, coffee, mini-croissants), a T-shirt and plastic bags and you went to work!  Towards noon there was what the French call l'apéro (a sort of cocktail hour) – juice, water, Pastis (a very popular- especially in the south of France – anise-flavored drink) and nibblies.  All provided by the local government.  Anyway, the weather was great, the work was easy with so many hands and the atmosphere was, well, neighborly.
These little calanques are a bit tough to get to and to visit but those east of Marseille are more accessible (and also very charming).  You can get there overland to visit the beaches, there are sightseeing boat tours and, for the athletic, there are even sea kayak tours from Cassis!
And the day wasn't yet done but that's for another post!