Music in Paris – Who Played Paris in April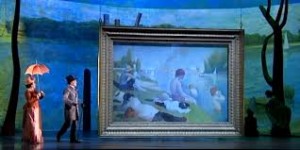 Even though spring here has been late and chilly, the musical scene has been hopping!  My personal sampling  (eclectic as always)- April was bookended by two jazz trumpeters, the Swiss Erik Truffaz, great, and the Franco-Lebanese Ibrahim Maalouf, stunning.  In between was the Bach Mass in C minor with John Eliot Gardner and the London Symphony followed two weeks later by their Stravinsky program to celebrate Gardner's 70th birthday!  The Stravinsky was good but the Bach was electrifying.  Add a young French jazz singer, Raphaële Atlan (many of her songs in English) at the Ducs des Lombards, a cosy Paris jazz club, and Stephen Sondheim's Sunday in the Park with George (in English), a musical inspired by Georges Seurat's famous painting A Sunday Afternoon on La Grand Jatte (in the Art Institute of Chicago), cleverly staged and quite touching.  Too busy to hear Rolando Villazon, Barbara Hannigan, Barbara Carolotti, Gil Shaham, Pink Martini and Melody Gardot – life is too short!  And that's just my personal selection – which is a tiny sliver of what was available last month in Paris!
Note: planning ahead can be important – while I got a ticket pretty much last minute to hear Raphaële Atlan, the Gardner Bach program, Melody Gardot and Ibrahim Maalouf were sold out!