Paris on Vacation – August Closures
Paris (and Parisians) go on vacation in a big way in August!  You can still have a successful visit – you just need to plan around 'fermetures annuelles' = annual vacation (or closures).  Museums are open normal hours as are major department and chain stores and banks.  Where it gets tricky is restaurants, bakeries and other small food shops (chocolates, butchers, wine), certain coffee shops and cafes and small boutiques.  While some Parisians take their vacations in July August is the really serious vacation time.   Closures start to ramp up in earnest the last week of July and start to taper off in late August (this year beginning August 27th) as Paris comes back to life!
For restaurants, the Michelin Red Guides note annual closings.  Or you can consult the list on the website of Paris By Mouth by clicking here.  Plan ahead and avoid the disappointment of this sign on the store or restaurant you most wanted to visit!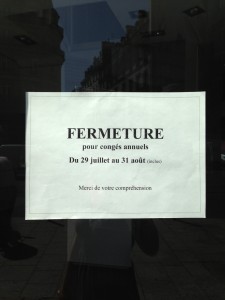 Photo courtesy of Prêt-à-Voyager.