Nuit Blanche 2013 – a great success!
The 12th edition of Nuit Blanche Paris was a great success!  According to the city 2 million people took part (the weather was mild and it didn't rain which certainly helped!).  Starting at 7 pm I managed to take in 7 events before heading home about 1 am.  Some events had really long lines but there were plenty of venues where that wasn't the case.  There were more options than one could possibly sample.  To add to the list many galleries were open late and some restaurants stayed open beyond their normal hours so that spectators could refuel!
Below a few of my favorites:  Fog installation (FOG SQUARE, Fujiko Nakaya), a wall of fog you could walk through and get lost in at the Place République,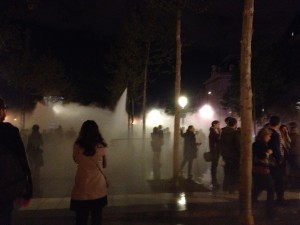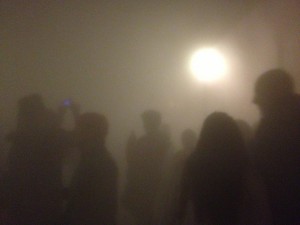 All The Bells, Work #1676 (Martin Creed), various locations around the city where carillons all over the city played for 3 minutes  (spectators were encouraged to bring their own bells in order to 'chime' in);
Bessarabia Ghost Tapes, a music and video installation by Soundwalk Collective in the courtyard of the Jewish Museum of Art & History;
and Fosse d'orchestre (orchestra pit) by Rosa Barba, a sound/light installation in one of the locks on the Canal Saint-Martin.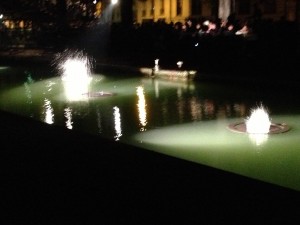 So, are you tempted?  You could start planning a trip for next October to attend the 13th annual Nuit Blanche Paris – and I can help you!