Photoquai 2013
Photoquai, the bi-annual photo exhibit curated by the Muséee Quai Branly (dedicated to indigenous arts and civilizations of Africa, Asia, the South Pacific and the Americas), is installed along the Seine between the Iéna and Alma bridges.  Yes, it's outdoors so best to choose a time to go when it's not raining!  But being outside means there's plenty of space even when it's crowded.  It's very well curated – within the overall theme "Look at me!" there are several different themes you can follow and a variety of guided visits are scheduled (free) – 15 minutes on a single photo, thematic tours and family tours for  7 – 12 year olds and their families (I eavesdropped on one of these and it was really very well done – I learned a lot !).   These visits are in French for the most part but on Sundays at 3 they offer visits in English, Italian, Spanish and Dutch.  Over 400 photographs by 40-something photographers from Russia, Mexico, Iran, Irak,  Koweit, Saudi Arabia (a woman!), Thailand, Japan, Mozambique, Australia, the Philippines, Chile, China, Brazil for starters!  Posted information in French and English.  For detailed information on the exhibit click here.
They've also created a very useful and extremely well-done application for smartphones (free) to enhance your visit.  To download the application PHQ4 click here.  There's also a catalog (27euros) sold from a slick vending machine at the welcome points.
The works of 3 of the photographers are displayed in the garden of the museum (just across from the main exhibit).  So, if you still have energy, maybe a visit to the museum is in order!
Free and open 24/7 until November 17th.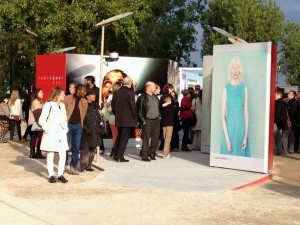 And one of my favorite images, by Evgenia Arbugaeva, Russia. Photos from her native region in Siberia.