Ma Samaritaine Photo Exhibit
Wish you could have visited La Samaritaine before it closed in 2005?  Well, you can now, albeit via photos installed in one of the original buildings.
Before renovation work on this famous former Parisian 'Grand Magasin' got under way for what will be a mixed-use complex (stores, offices, hotel, housing) 11 young photographers were invited into the 'abandoned' space to pursue individual projects of their choosing.  The results (some of which are hauntingly beautiful) are on display until November 24th in one of the buildings of the former store (which allows you to see, in person, a few of the architectural details of the building past, present and future.  For info on the photographers and a few of their photos click here.  The article is in French.
67-73 rue de Rivoli, 75001.  Metro: Louvre-Rivioli, line 1 or Pont Neuf, line 7
Open Wednesday -Sunday, 2 – 7 pm, until November 24 (I've actually seen 2 different end dates, the earlier being November 17th but Le Monde and others reported it as the 24th; to be safe sooner is maybe better than later…).
PS – for those of you faithful readers who might notice, this is my Monday post a couple of days early (I'll be in Italy for a week – occasionally I do indulge in things not French!)
One of my favorite photos from the exhibit, mixing fashion and architecture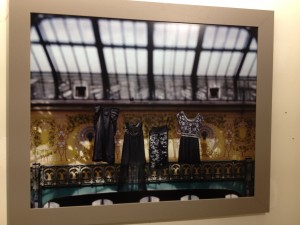 And another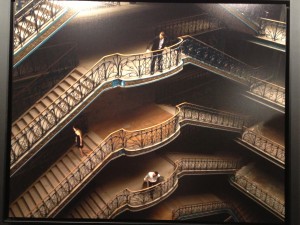 And architectural details that are being retained