Here's a Paris museum only open between Christmas & January 5!
The Musée des Arts Forains (think old-world country fairs), an off-the-beaten path museum in the 12th, is only open to the general public over the Christmas holidays (this year, December 26, 2013 – January 5, 2014).  If you love merry-go-rounds, caliopes, carney games, wooden caravans, etc. you'll be captivated!  Essentially this is a private collection and most of the year it functions as a rather unusual event center.  Occasionally groups can arrange guided visits (which is how I got to see the museum a year ago) but if you're visiting Paris now, this is your chance!  There are shows and animations every half hour and some rides will be open to kids and adults.
Musée des Arts Forains, 53 Avenue des Terroirs de France, 75012 Paris, open 10-6.
Adults – 12 euros, children 2 – 12 – 5 euros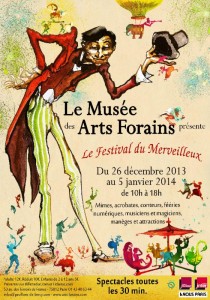 One of the many, many merry-go-rounds (most are French or German – and for those who are knowledgable – the styles are different!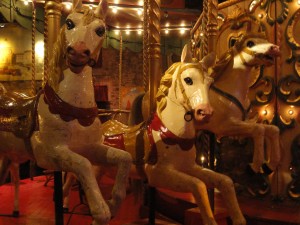 And, since it was a guided visit, we were even able to peek into their storage areas!