Epiphany – Galette des Rois
The French celebrate the Epiphany (which commemorates the date when the Magi brought gifts to the baby Jesus) with this wonderful cake – the galette des rois (or king's cake).   While almond paste filling encased in puff pastry is the tradition in much of France, in the south it's a circular brioche cake decorated with dried fruit.   You can even find other regional variations.  And these days you can find the traditional galettes with alternate fillings – apple & chocolate, pistachio or hazelnut!  So, lots of choices!
Regardless of the style, every galette has a little figurine (called a 'feve' or bean) baked into it.  When families or friends gather for their galette the tradition is that the youngest child hides under the table and calls out who gets each piece.  Whomever gets the feve in their slice becomes the king or queen, gets to wear the paper crown sold with it and of course gets to keep the feve for their collection.
Though Epiphany is observed on January 6th the galettes start to appear in bakeries in late January and are available all through the month.  And most bakeries either sell slices or individual galettes so if you're alone or a couple you too can indulge!  Remember, you'll only find them in bakeries in January.  So carpe diem!
A traditional galette with the crown from a well-respected bakery: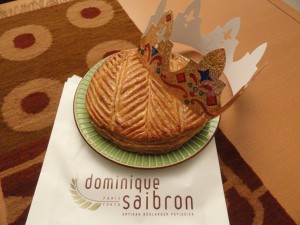 Polaîne's galette and their 2014 line of feves: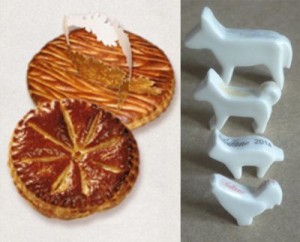 Hugo & Victor's galettes (the southern style brioche topped with candied fruits is bottom right) and their 2013 feve collection in the little round box.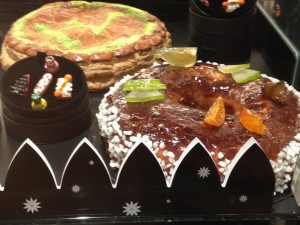 Two of my favorite feves (Polaîne's 2012 feve designed by Sonia Rykiel and Dominique Saibron's 2013)