Tour Saint-Jacques Visits
Through September 28th, 2014, the Tour Saint-Jacques is open for visits on Friday, Saturdays and Sundays.  The tower is all that remains of the church Saint Jacques de la Boucherie (Saint James of the Butchers – the former markets of Les Halles are not far).  A UNESCO World Heritage Site since 1998 for it's Flamboyant Gothic architectural details as well as historical significance (it was a starting point for pilgrimages to Santiago de Compostela among other things).  Not for the faint of heart – you have to climb 300 steps,  it's not recommended for anyone who's claustrophobic or afraid of heights and kids under 10 are not allowed.  But, if this doesn't discourage you, online reservations open on Mondays for visits that weekend (click here).  Or reserve in person at the base of the tower from 9:30 on days of the visit, subject of course to availability.  Visits last 50 minutes.  Great views of Paris for the hardy souls who make the effort!  Oh, and wear comfortable shoes!
Visits every hour from 10 – 5 on Friday, Saturday, Sunday until September 28th. Entry 8 euros, 6 for those under 18.  39 rue du Rivoli, 4th.  Metro: Châtelet or Hôtel de Ville.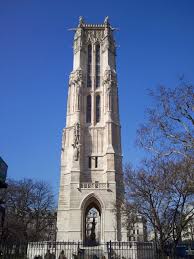 Photo from Wikipedia