You really don't want to be on the road in France this weekend!
The great cross-over between the French who favor July vacations vs those who prefer August descends on France this weekend.  With those July vacationers returning home at the same time as other leave for August, the traffic prediction is bleak – literally black (way worse than red!).  So, if you're driving in France, this weekend is a great time to stay put – wherever you are.  You can find something better to do than be stuck in traffic for hours, can't you?
This graphic tells it all!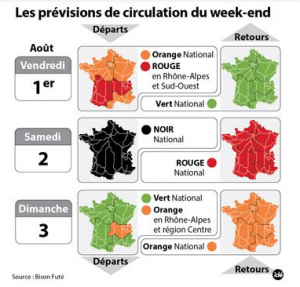 PS – the train stations will be zoo-like (even if you could get a seat at this late date) and, with Air France ground personnel set to strike tomorrow at Charles de Gaulle, Orly and other French airports, staying put really your best option!