So many (sometimes poetic) ways to say 'gone fishing'
Paris is pretty much shuttered in August except for monuments, museums and stores in tourist areas.  Elsewhere in the city, lots and lots of stores and restaurants are closed.  Below is a sampling of how they announce the news, from the basic and straightforward to the poetic.
Closed for annual vacation, reopening August 25.  Have a good vacation.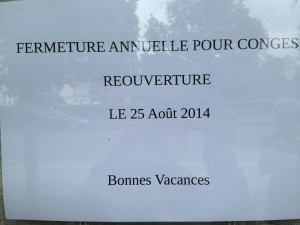 Closed for annual vacation.  Return to port expected September 9.  See you soon. (a seafood bistrot)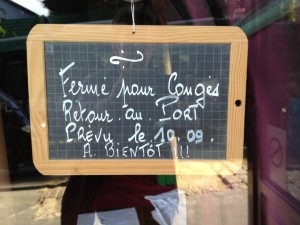 'Ithaque' (a bookstore) heading out to sea, August 3 – 21 inclusive.  Return to dock Friday, August 22 at 10:30.  A very good summer to all!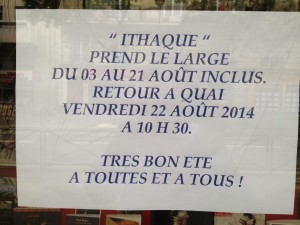 We're closed from Saturday August 2 through Monday August 25.  The entire team of the restaurant wishes you a good vacation.  See you soon.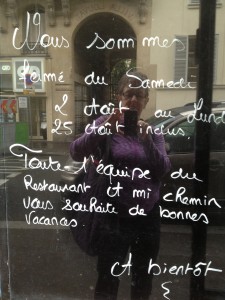 Even the famous ice cream maker Berthillon is closed (but they left a note with nearby addresses that sell their ice creams!)
And my personal favorite:
The muse is searching for inspiration until September 2.  (a flower shop)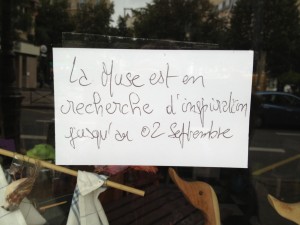 Another photo of the flower shop window, showing the vacation theme (with lots of little notes about travel).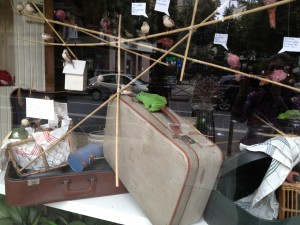 And lastly (though not an issue for tourists) many of the courts are closed (pictured here is the equivalent of the bar association).  So you see, the French are really serious about vacation!