The liberation of Paris -August 1944
If you're a history buff and in Paris on August 24th you're in luck – the city of Paris will observe the 70th anniversary of the liberation of Paris all day long.  During the day wreaths will be laid at various points around the city to honor many of those who fell during this campaign.  There will also be a special commemorative mass at Notre Dame at 11:30 am.  Events will culminate with a ceremony in front of the Hôtel de Ville at 9pm with the presence of François Hollande, president of France, and Anne Hidalgo, the mayor of Paris, among others.  This will be followed at 9:30 by a sound & light show projected against the walls of the Hôtel de Ville itself recounting critical points of the liberation of Paris and, at 10:00 pm by a bal populaire (dancing for all).
Hôtel de Ville, 4th.  Métro: Hôtel de Ville, lines 1 and 11
There are also a couple of related exhibits:
August 1944: The Fight for Liberty.  Hôtel de Ville, Salle Saint-Jean, 3 rue Lobau, 4th.  Through September 27th, Monday through Saturday 10:00-7:00.  Free.  Also, free guided visits in English every Thursday between September 4 & September 25th. To reserve call 01 42 76 51 53.
Paris Liberated, Photographed, Exposed.  Musée Carnavalet, 16 rue des Francs Bourgeois, 4th.  Métro: Saint-Paul, line 1. Until March 1, 2015.  Tuesday through Sunday, 10-6.  4-8 euros.    This exhibit revisits an exhibit mounted in November 1944, The Liberation of Paris, focusing on patriotic testimony from those who has so recently lived through the event.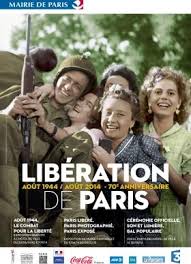 Poster from the original 1944 exhibit, revisited in the current Musée Carnavalet expo