Tides of the century at Mont-Saint-Michel
'High tides of the century' (even though this actually happens every 18 years!) are expected in the bay of Mont-Saint-Michel this weekend (March 20th-March 23rd).  If you're in France now there's still time for you to witness this event – the tides will be much higher than usual and will rise faster than normal (rated at 119/120 for those of you who understand these things!).  You won't be able to hike the mud flats during this event (which should never be done without a guide as there are pockets of quicksand).  And at this late date you certainly won't be able to get a room on the Mont (maybe nearby).  For those traveling in April, 2nd chances date are April 19th and 20th (coefficient 113/210).  But even if you miss out on this, Mont Saint-Michel is a magical place to visit any time of year.  Possible as a very long day trip from Paris but much better as an overnight!
This photo (France 24 screen grab) gives you some idea of what it may be like…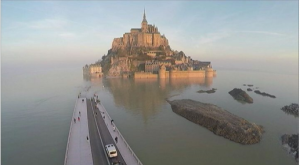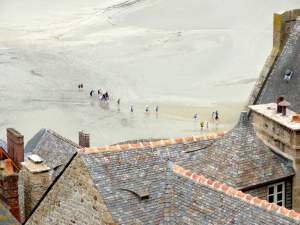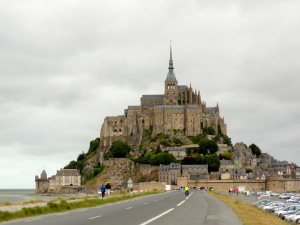 And this last photo if from before the causeway was removed to return normal water flow to the bay, a decade-long project that's finally (almost?) finished.